When Robert Kyagulanyi, later to be known as Bobi Wine, first started making rap music in the slums of Kampala, Uganda, he did not set out to eventually become a revolutionary.  "Music was seen as a thing for failures. So initially I was involved in different little businesses, selling tapes and records, making bricks, doing this and that," he told the Rolling Stone in April 2020.  Luckily, his efforts paid off. By the early 2000s, Wine had made a big name for himself in the East African music scene. His dancehall hits consisted of a groovy blend of reggae and kidandali—Ugandan afrobeats. He wrote love ballads, gloated about his riches, and exuded the braggadocio of the typical rapper. He rarely delved into serious topics, such as poverty, corruption, and human rights. He was a part of the Ugandan elite, befriending politicians and businessmen and enjoying a life of decadence in one of the poorest countries in the world. By the late 2010s, he made a big name for himself in another arena: politics. His reggae love ballads were replaced with inflammatory rap disses of the Ugandan establishment. Since his successful bid for parliament in 2017, Bobi Wine the dancehall sensation has transformed into Bobi Wine the political provocateur. Wine's populist, pro-democracy, anti-corruption movement, People Power, has gained a substantial following, especially among the young, urban, and poor. The movement, with its red berets and clenched fists, reeks of revolution. Now, he's running for president.
It is tempting to assume that Wine's popularity is mostly based on his rap origins. Music was certainly the catalyst to his popularity, but the forces that propelled him to political infamy and fuels his People Power movement go beyond one man. Growing discontent with a neglectful, autocratic government is the basis for his popularity. Bobi Wine's liberal, democratic vision is attractive to a people living under the repressive, lawless dictatorship of Yoweri Museveni. In other words, the rise of Bobi Wine represents the growing disenchantment with the political establishment—not only in Uganda but also throughout the continent.  
Museveni's Lawless Dictatorship
Museveni came to power in the 1980s after leading a successful rebellion against Idi Amin, the former president and "Butcher of Uganda," who was often accused of cannibalism (when asked, he responded "I don't like human flesh…It's too salty for me"). Once Museveni took office, he abandoned his democratic promises and reverted to power consolidation and repressive rule. Since he took office 34 years ago, Museveni has repeatedly shown his disregard for the people. A November 2016 incident, where the Ugandan security forces killed more than 100 people, including 15 children, is just one of many instances in which the government has favored its own interest over the interests of the people. Human Rights Watch reports that the incident was the result of a military operation to kill the administrative authority of the Rwenzururu kingdom in western Uganda. Most of the people killed during the operation were unintended bystanders—cooks, custodians, and children. According to Human Rights Watch, the government responded by charging "hundreds of civilians, including six children, with treason, terrorism, and murder for the deaths of 15 police in six sub-counties outside the town of Kasese, among other crimes". Other civilians were detained and tortured.
The November 2016 incident highlights the two main problems in Uganda: a powerful, unchecked security force and a blatant disregard for the rule of law. In 2018, security operatives tortured Bobi Wine and 33 others, but no charges were brought forward. In July 2019, government officials and police rounded up over 600 children and young adults in Kampala to remove and resettle homeless street children, using sticks and batons to force them into vehicles. Incidents like these are why Uganda ranks 117th out of 128 countries on rule of law by the World Justice Project.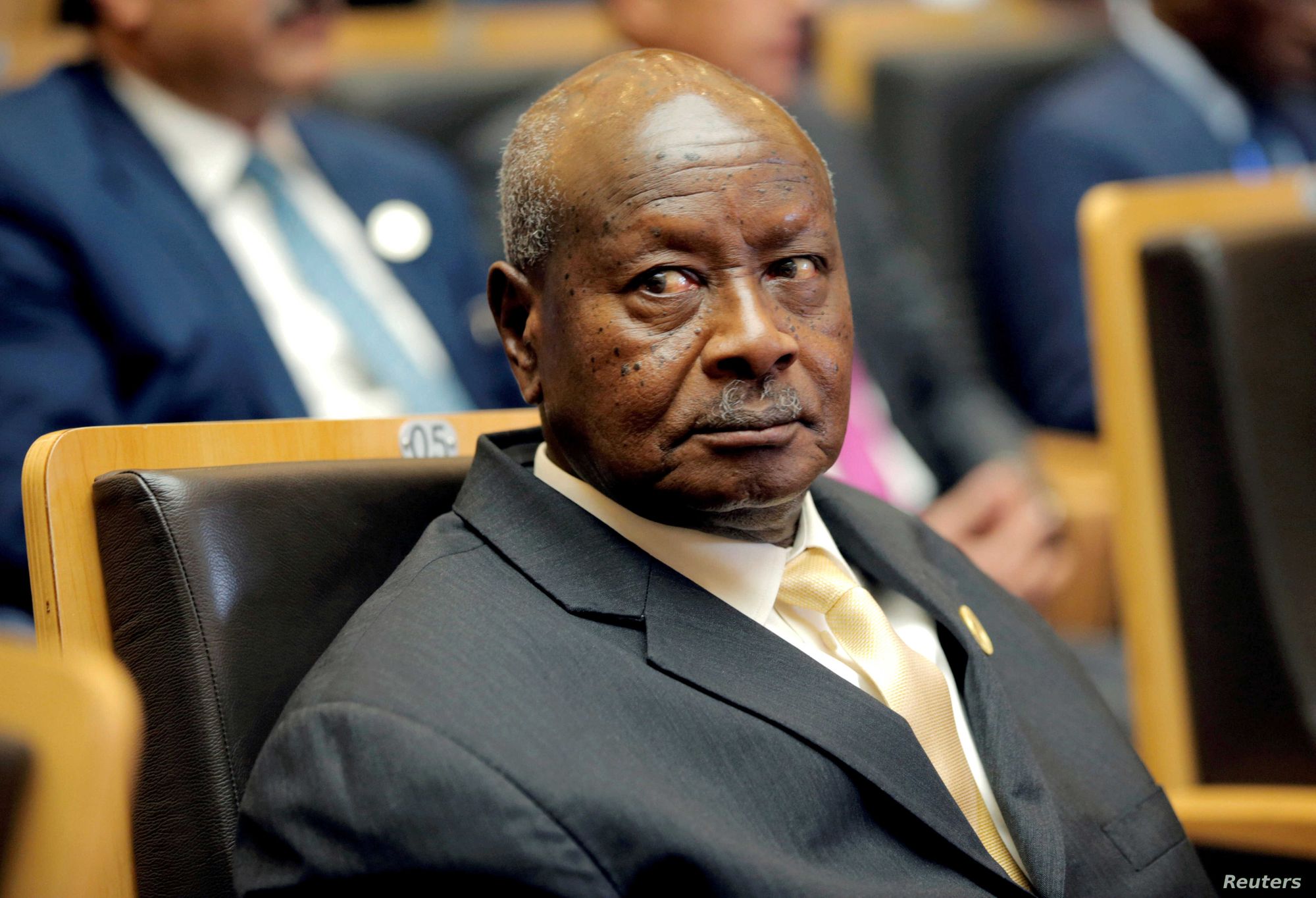 Museveni's power is not derived from the people—it is derived from the military and law enforcement. He, after all, came to power through the military. If Museveni wants to stay in power, his safest  strategy is to appease the military, which gives security officials unchecked power in Uganda. Rarely are security officials held accountable for the crimes they commit. The unilateral transgression of the security officials essentially allows them to murder people without consequences, undermining the rule of law and public trust.‌‌‌‌
Rap as a Tool Of Revolution
Bobi Wine, more than any other opposition leader, clearly articulates the people's frustrations. Before he ran for parliament, Wine was known as "the Ghetto president" because of "Ghetto," his first song critical of the government. According to Rolling Stone, Wine was inspired to release the song after the government swept vendors and beggars off the streets of Kampala  to polish the city's image as it prepared to host the Commonwealth Heads of Government. Since then, Wine has repeatedly used music as a political tool to rally his supporters and spread his message. His use of rap music has made him more successful than past opposition leaders. One of them, Kizza Besigye, has run for president four times. In a country where the median age is 16 years old, it's not surprising that Kizza Besigye, who is 64 years old, has not been able to capture the same energy among young people as a reggae star.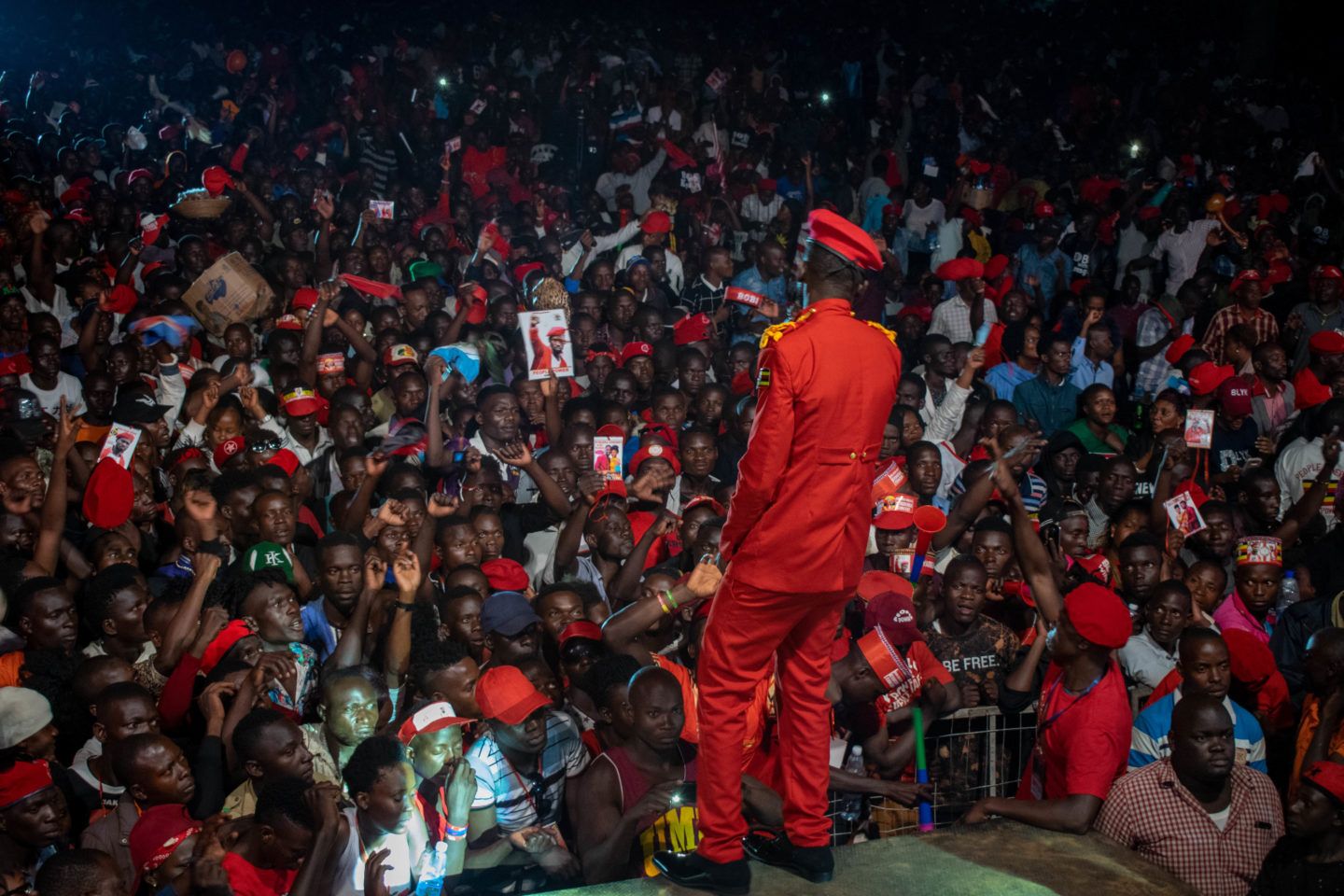 Because of his appeal to the people, Wine represents a legitimate threat to Museveni's rule. Museveni does not need the people's respect to stay in power. Museveni, like other strongmen, holds elections to build a facade of legitimacy, especially to western allies that give him millions of dollars worth in aid. The United States rewards Uganda $1 billion each year for their contributions to the war on terrorism. Uganda has also taken in a substantial number of refugees that Europe has  largely rejected—and the $200 million in humanitarian assistance to come along with it. The discontent that Wine is fostering makes Museveni seem illegitimate, especially to the international community. Wine's plan to oust Museveni includes exploiting this vulnerability. Wine has extensively engaged with western media outlets as part of his international strategy to generate foreign support for Museveni's departure. His efforts have yielded some fruit, such as when the United States invoked the Magnitsky act against Uganda's former police chief, denying him entry into the United States last year.
A mass uprising, like the Arab Spring, is also another fear of the regime. The need to sustain the facade of legitimacy and avoid a popular uprising mostly explains Museveni's response to the Bobi Wine problem. Museveni has tried to deal with Wine through fear and intimidation but has avoided killing him in fear of sparking a popular uprising. Wine has been arrested many times, often on dubious charges, then beaten and tortured. His driver was found shot dead, but Wine claims the bullet was for him. Multiple members of his party have also been arrested, beaten, kidnapped, or tortured. Given the cult of personality around Bobi Wine and his immense popularity, his death would surely send shock waves and spark the kind of mass uprising the government fears. Museveni has had multiple opportunities to permanently deal with Bobi Wine, but his reluctance to do so suggests that, for the time being, Bobi Wine is still alive because of his popularity.
‌‌Popularity most likely will not translate to electoral victory, however. Bobi Wine is almost certainly going to lose the 2021 presidential election. Museveni has a strong political machine with deep ties to big business and the military. Daniel Kalinaki, the General Manager of the Daily Monitor (Uganda's largest independent newspaper) says "Even if Jesus Christ ran against Museveni, he'd lose." He could even, as he did in 2016, arrest his opponent the day of the election.
Bobi Wine's real potential for change is through his People's Power movement. Wine's movement is meant to pull back the facade of legitimacy and, according to him, "sensitize the people of Uganda" to the problem. He told the Center for Strategic and International Studies his local strategy entails raising support for his party using tools like music and social media, where government repression is less organized, to mobilize the masses. In conjunction with his international strategy, his national strategy has the potential to affect real change in Uganda once people feel compelled to take active steps to remove the regime from power. Currently, Bobi Wine and his movement is a thing to behold, but the movement has not reached the point where people are ready to carry pitchforks to the capital. But, what he is doing—raising awareness about the problem—is the first step to getting there. Similar to how the men of the French Revolution used pamphlets to awaken the consciousness of the French people to the vices of monarchy, Wine is using music and social media organizing to affect change. In essence, he's trying to lead a twenty-first century revolution.‌‌‌‌
A Broader Trend In Africa
The rise of Bobi Wine coincides with a growing trend within the continent—the rise of the young and urban. Amaka Anku and Tochi Eni-Kalu of Foreign Affairs make an interesting connection between growing urbanization, changing demographics, and increasing democratization in Africa. They write that "By 2040—a decade before Africa's population is forecast to reach 2.1 billion, or double what it is today—the continent will become majority urban." While some have argued this will lead to anarchy, Anku and Eni-Kalu believe that urbanization will increase calls for government accountability. Urbanization often leads to increased demands for better social services, such as sanitation, public health guidelines, transportation, and education. This was the case during the English Industrial Revolution of the late 19th century; more people in cities lead to the demand and creation of better public social services. Cities are uniquely conducive to progress because their density makes it easier to organize protests.
All the while, Africa is growing younger: 60 percent of the population in Sub-Saharan Africa is under the age of 25. The rise of the young and urban will increase political competition because it renders the current political establishment, which mostly consists of veterans and descendants of the independence revolution, inadequate. New parties or factions that can capture and harness the progressive attitudes of young people will become more popular. In fact, the dethroning of establishment political parties is happening right now.
Anku and Eni-Kalu write that "incumbents in Senegal and Nigeria were voted out of office for the first time in 2012 and 2015, respectively… In South Africa, the ruling African National Congress has lost close to 50 parliamentary seats in the 400-seat National Assembly since 2004...Altogether, over 20 sub-Saharan African nations, including those under long-standing authoritarian rule such as Ethiopia, Zimbabwe, and Sudan, have had a transfer of power, often as a result of a competitive election, in the past four years alone."
Uganda appears to be following these two trends: the populace is incredibly young and their urbanization continues to increase each year—and so is their hunger for change. Bobi Wine arose to satisfy their appetites. And, he could only have done it through music. The slums of Kampala do not offer many opportunities to become a politician. The political elite in Uganda, and in many African countries, is insular; the chances of breaking into politics without familial linkages are abysmal. The entertainment industry allowed Wine to amass the wealth and build the national recognition necessary to break into politics. In a country with strangling inequality, decimal chances of mobility, and inadequate education, it is hard to think of another avenue to politics for someone who was not born into the political elite. It is also hard to imagine a member of the elite generating the type of anti-establishment, populist movement Wine has managed to cultivate.
‌‌Bobi Wine is not the only political rapper on the continent. Last year in Kenya, Kennedy Ombima, known as "King Kaka" on the stage, released an instantly viral and controversial song called "Wajinga Nyinyi (you are fools) " in which he accused the Kenyan political establishment of neglecting the people. Perhaps he was inspired by Bobi Wine, who was propelled into politics after releasing "Ghetto." Perhaps he will follow in Wine's footsteps. Time can only tell.
---