In the summer of 2019, rumours flew around Kylian Mbappe. The French star, widely considered to be one of the world's most promising young soccer players and valued at more than US$220 million, wanted a change of scenery, but few clubs apart from his own Paris St.-Germain (PSG) could afford his transfer price or massive wage bill. Still, bettors and football fans speculated on his next move. Would it be Spanish supergiant Real Madrid? Or recent English powerhouse Manchester City? He might even be convinced to move to historic Manchester United or, oddsmakers proclaimed, Newcastle United.
Wait. Newcastle?
Yes, Newcastle United. Coming off a middling thirteenth-place finish in the English Premier League the season before, tiny Newcastle seemed like an unlikely landing spot for the world's best young forward. But Mbappe's discontent was not the only news circulating that summer. Saudi Arabia's Public Investment Fund (PIF), a sovereign wealth fund headed by Crown Prince Mohammad bin Salman Al-Saud, had stepped up its efforts to buy the club. With 320 billion pounds (US$423 billion) in assets to leverage—more money than the gross domestic product of Finland—the takeover would give Newcastle enough financial muscle to exceed the next richest club, PSG, by almost 100 billion pounds, and the third richest, Manchester City, by almost 300 billion pounds. In October of 2021, despite months of arbitration and protests regarding the relationship between the PIF and the Saudi government, the sale closed, transforming Newcastle United from an average English club into one of the world's richest teams. But Newcastle is not an anomaly. Across the world, influxes of cash from oil-rich nations are reshaping the landscape of a game that has deep political implications. These investments have shifted the center of the world's game from Europe to the Persian Gulf.
Why?
The answer increasingly has to do with these nations' desire to translate their newfound wealth into global influence and distract from negative press. Using sports as a means to draw positive international attention is not a new tactic; autocratic regimes have a long history of papering over negative perceptions with sporting events. Benito Mussolini used the 1934 World Cup to promote fascism. The Nazi's propagandized the 1936 Olympics in Berlin for similar reasons. Zaire's Mobutu Sese Seko hosted the "Rumble in the Jungle"; authoritarian Philippines organized the "Thrilla' in Manilla." Saudi Arabia's purchase of Newcastle was quickly branded as another instance of "sportswashing"—using sporting events to distract from negative international narratives. Since the early 2000s, international and club football have acted as the backdrop for unprecedented financial investment from oil-rich countries trying to improve their public image on the world stage. The same rationale appears repeatedly to explain investment in the world's most beloved sport: by hosting tournaments and purchasing clubs, oil-rich nations can attempt to buy their way to reputations of political maturity and relevance in the international community.
Oil-rich countries like Qatar, Saudi Arabia, and the United Arab Emirates (UAE), three of the largest investors in global football, have an image problem. Their rapid economic growth, along with a shift of global attention to the Middle East, has brought them to the forefront of the international spotlight, but not always in a positive way. All three rank among advanced economies according to the World Bank, but their extant monarchies and high-profile human rights abuses have damaged their reputations. Qatar has chronically abused its substantial migrant worker population. Saudi Arabia's brutal extrajudicial killing of Jamal Khashoggi and years-long involvement in the Yemen Civil War have tainted their international image. A banner unfurled by opposing fans at a Newcastle game shortly after the Saudi takeover condemning Saudi human rights abuses evidenced Britons' negative opinions of the kingdom. The UAE is also involved in Yemen and faces allegations of torture against foreign nationals. However, international football—with its billions-strong audience—offers a way to change the narrative, creates an avenue for durable relevance outside of the petroleum industry, and is readily accessible for the right price.
The upcoming 2022 World Cup in Qatar provides a prime example. The event, for which Qatar has been accused of bribing officials in order to host, has drawn new attention to the tiny oil-rich state. Qatar's successful bid was the latest effort to expand the country's soft power capacity. Qatar has dumped US$200 billion into preparations for the 2022 World Cup in order to transform a nation that was poorly equipped to host a tournament when it won the bid in 2010 into one ready to blow away expectations—and negative press—with a world-class spectacle. For a nation that seeks to establish itself as an international presence, the opportunity to host an event watched by more than 3.5 billion people is a must. It beat the United States in a run-off vote for the chance to host the tournament, and it is determined to put on a World Cup that even the world's richest nation could not rival. A successful World Cup could suggest that Qatar has the potential to be a more prominent player on the international stage. Moreover, fewer people may associate Qatar with its regressive migrant labor system and instead consider the country's appreciation for sports.
Hosting, Qatar has found, has been a mixed bag. Horrendous treatment of migrant workers building the vast new stadiums and infrastructure projects in brutal desert heat has led to more than 6,500 deaths, leading to intense international scrutiny. A successful World Cup, however, could change the opinions of the millions of tourists that the event draws. The Qatari government is banking on tourists and viewers seeing a highly modern state with few of the negative qualities associated with monarchical and autocratic Gulf states. Appealing directly to the people of foreign nations, Qatar hopes, will lead to foreign governments that are more favorable toward the Gulf state and less critical of Qatar's mistakes.
Qatar's brazen soft power play and Saudi Arabia's takeover of Newcastle are by no means oil-rich nations' only attempts to expand soft power through sport. Especially in Europe, where the world's biggest clubs vie for the most coveted trophies and, importantly, where viewership is highest, the network of ownership is vast. A member of the Emirati royal family, Sheikh Mansour, bought Manchester City in 2008 and has been a highly visible face of the team. His substantial financial resources have transformed the team into one of the world's best and the crown jewel of a set of ten teams owned by Mansour across the world. Manchester City played Chelsea FC in the final of the 2021 Champions League, club football's biggest prize. Chelsea FC has been owned since 2003 by Roman Abramovich, a Russian billionaire who originally built his fortune in the oil business. He is alleged to have bought the team at the behest of Russian President Vladimir Putin. To get to the 2021 finals, Manchester City beat PSG, owned and run by Qatar's sovereign wealth fund. A Saudi Prince owns Sheffield United, a smaller team in England. The Kingdom of Bahrain has a stake in Paris FC in France. A Saudi powerbroker's cash has caused commotion for Almeria FC in Spain. Each of these purchases has brought an oil-rich government quite literally into the everyday life of European citizens. By linking themselves inextricably to some of Europeans' most treasured institutions, Gulf states have the opportunity to redefine their public perceptions in the eyes of foreigners.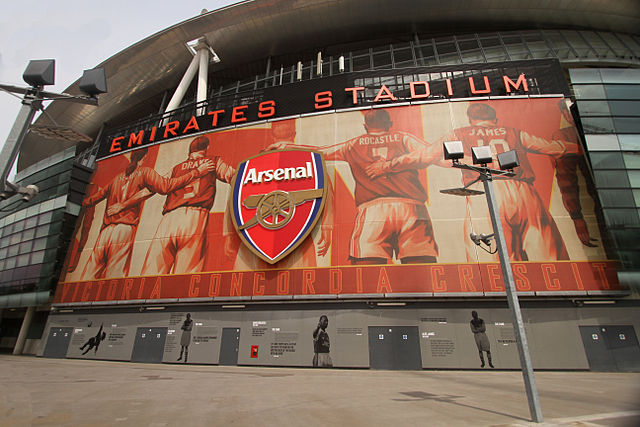 In many cases, despite the shell companies and funds that officially own clubs, the link between team and state is strong. One study found that state-owned clubs buying especially expensive players are linked to variations in prevailing market prices of oil. Speaking about Manchester City's manager, the free-spending Pep Guardiola, one insider claimed that, "my friend Pep told me what happens when he signs a player costing €100million. He puts some videos together and goes to see the sheikh [Mansour]. There is an opulent feast put on, during which he teaches the video to him and the money is transferred. The next day, the sheikh raises the price of oil to recoup the money." Gulf leaders are intimately tied to the clubs they support, indicating that ownership of European clubs is not the passion project of bored royalty but a strategy endorsed and coordinated by government officials at the highest level. They are enabled further by football's financial structure, which provides few barriers to potential-investors with deep pockets, and by FIFA's notorious and staggering corruption, which pairs well with Gulf states' willingness to pay.
Perhaps even more visible than outright ownership is sponsorship. Between kit sponsors whose logo is displayed prominently on players' chests and on the billboards that surround football pitches, matches provide a buffet of public-facing opportunities for enterprising oil monarchs. The 2021 English Premier League features Arsenal and Manchester City sporting kits advertising Emirati-government owned Emirates Airlines and Etihad Airways, respectively. In Spain, Real Madrid, the Champions League's most successful side, wears Emirates-branded kits. So have PSG and Olympique Lyonnais in France and Italian side AC Milan. Italian club AS Roma advertises state-owned Qatar Airways, as did FC Barcelona for much of the 2010s. Perennial German Bundesliga victors and 2020 Champions League winners Bayern Munich wear Qatar Airways' logo on their sleeve. Russian state-owned gas company Gazprom has long sponsored German side FC Schalke 04, and the company's logo appears on pitch-side billboards across Europe and even in FIFA's hugely popular video game franchise. Although in a different position internationally than Gulf monarchies in many ways, Russia's aspirations for European influence make sponsorship similarly attractive. Every fan wearing a team jersey or watching a match is also a voter with the ability to influence national-level policy towards an oil-rich state. Mancunian voters, for instance, may have stronger support for British ties with the UAE if they see the Emirati government as instrumental to the success of Manchester City. The money these sponsorships and wealthy owners bring propels these clubs, many of which were already highly successful with tens of millions of fans, to the forefront of competitions, further enhancing their visibility.
When Kylian Mbappe and the rest of the French national team travel to Qatar in the winter of 2022 to defend their World Cup win from four years prior, the world's eyes will be on the football pitch. For Qatar and other Gulf monarchies, however, the tournament's winner will be far less important than the positive exposure and attention it brings to the Middle Eastern nations.
Cover image courtesy of the Russian Presidential Press and Information Office, accessed via Wikimedia Commons.
---