Daniel Chibuike was a 20-year-old aspiring musician when he was shot dead on October 5, 2020 by police officers serving in the Special Anti-Robbery Squad (SARS) of the Nigerian Police Force. Chibuike's death was the last straw for Nigeria's youth, who had already taken to the streets in 2017 to demand the abolishment of SARS. The Nigerian government, in a desperate attempt to calm down the protesters, promised in 2017 that the authority of SARS units would be significantly reduced, but this promise remained unkept, with SARS units continuing their violent and unlawful practices towards young adults in Nigeria. At first glance, the controversy surrounding SARS appears to be an issue of police brutality that many suffer from in countries around the world, and it certainly is. Yet, the brutality of SARS is disproportionately aimed at young males who choose to wear certain types of clothes, drive certain types of cars, and use a particular brand of smartphone. So, the cruel practices of SARS appear to be combined with social profiling that is based on the personal choices of young adults. Using a laptop, owning the newest iPhone, driving a brand-new sports car or wearing ripped jeans are all reasons why a Nigerian young adult can be detained by SARS units. Often, those who "fit the description" are quickly accused of being thieves, with SARS units assuming that young adults must have stolen the cars they drive and the smartphones they use. Despite the absurdity of SARS' logic, practices like this have led to countless unlawful arrests of young people in Nigeria. Undoubtedly, the central theme of the issue is police brutality, but this brutality seems to be fueled by the major generational and ideological gap that exists in Nigerian society.
SARS and Human Rights
Since its establishment in 1992, SARS has been plagued by a worrisome human rights record. According to witness accounts documented by Amnesty International, SARS routinely tortured its detainees, with many detainees experiencing harsh beatings and serious death threats. Moreover, SARS has been found to have multiple officers who have been engaging in stealing money, property or forcing detainees to pay hefty bribes before freeing them—ironic for a division with the goal of preventing robbery. More importantly, individuals detained by SARS who suffer from these atrocities are often never charged in court, which means that people who are completely innocent are physically tortured and eventually left with psychological injuries. Regardless, whether a detainee is guilty or not should not be a factor in deciding who to torture as all forms of torture are illegal in Nigeria, whether someone is guilty or not guilty of a crime. Despite their atrocities, a total of zero SARS officers have been prosecuted since 2017, which, considering the extensive evidence of torture, is shocking. Clearly, SARS has enjoyed freedom in how they choose to treat detainees and received protection from the government and the courts even though their practices are against Nigerian law.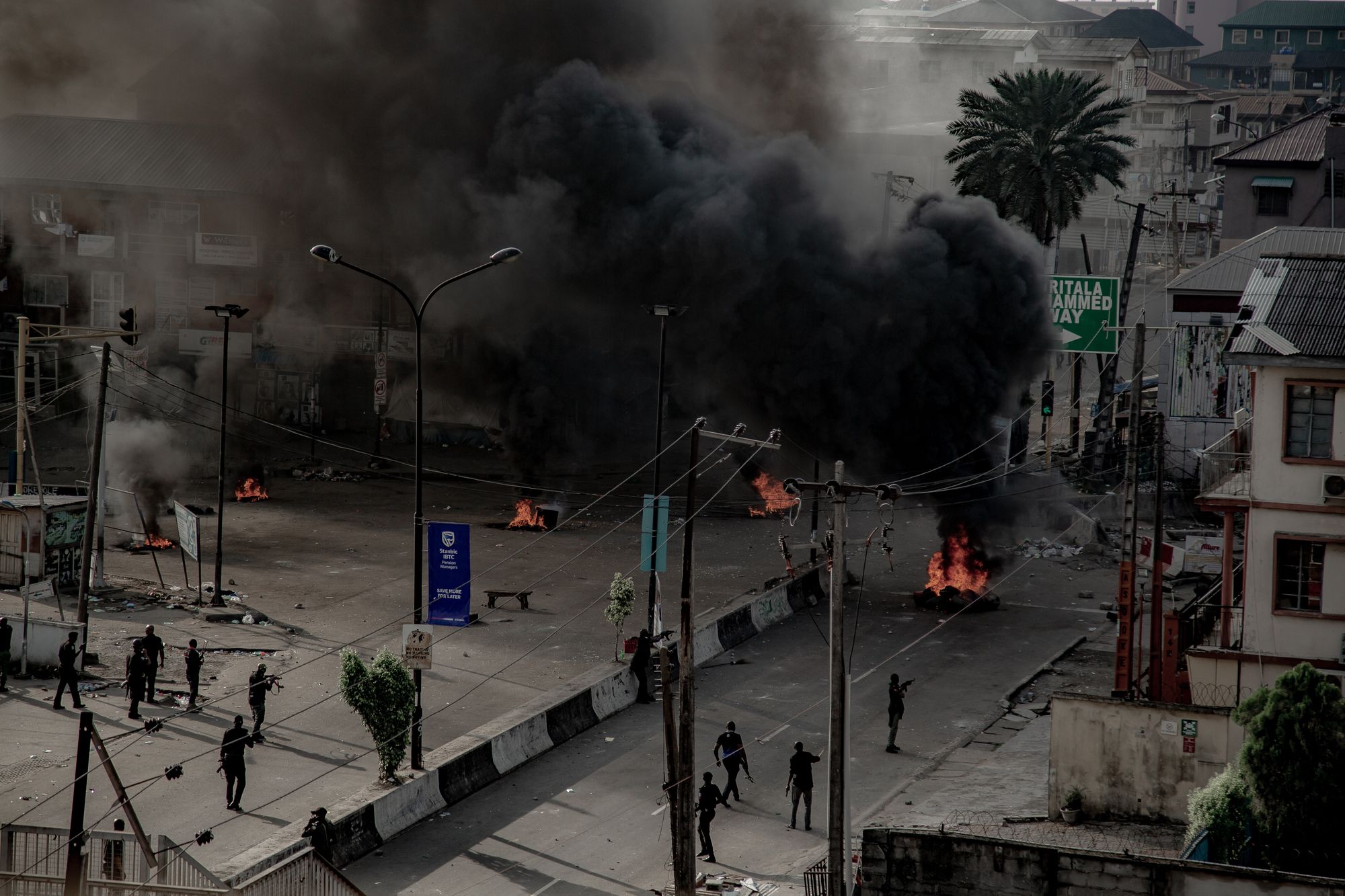 Chibuike's death sparked the Nigerian youth to once again take it to the streets in October 2020. This time around, the protests spread to social media, with the #EndSARS hashtag on Twitter becoming the center of expression of displeasure with SARS. Protests took place not only in Nigeria, but also in the United States, the United Kingdom and Canada. Though protests were not met with force abroad, protesters in Nigeria faced resistance from the government, the police force and the army. Nigerian soldiers were seen opening fire during the protests, leaving more than a dozen protesters injured and one dead. Meanwhile, Nigerian President Muhammadu Buhari remained mostly silent. Buhari's administration had promised multiple times over the years that appropriate action would be taken against SARS, with no sufficient result ever achieved.
President Buhari's "Lazy Nigerian Youths"
While the main reason behind Buhari's inertia toward the protests might appear to be the desire to hold his police force together, there are other reasons why the cries of the Nigerian youth have not been heard. Back on April 18, 2018, Buhari referred to Nigerian youth as "lazy" during his address to the Commonwealth Business Forum in the United Kingdom. Back then, Buhari's description led young people in Nigeria to criticize him on Twitter with the hashtag #LazyNigerianYouths. At the age of 78, Buhari has an extensive military background, a successful coup through which he came to power in 1983, and a military-led nationwide campaign called "War Against Indiscipline" under his belt. Putting Buhari's description of Nigerian youth and his background together, it becomes clearer why the demands of young people in Nigeria to abolish SARS were not met. The generational and ideological gap between those who are running the country and those who demand change has evidently resulted in an overall lack of empathy in Nigeria. When leaders cannot—or are not willing to—understand the problems faced by a specific group of people in the country, protests and movements like #EndSARS start to occur. While focusing only on Buhari's approach, or lack thereof, to the issue of SARS' brutality would be a very voluntarist approach, it is at least apparent that the constant inertia of his administration has only led to further social divide and bloodshed.
The generational and ideological gap in Nigeria also stems from the social structure of the country. Almost half of the nation is Muslim and the other half is Christian. Muslims predominantly live in the Northern regions of the country, adding a geographical aspect to the religious divide. More than 250 ethnic groups are present in Nigeria, many of whose exact population sizes are unknown due to the controversies surrounding the censuses of Nigeria. In the past, most ethnic groups have claimed that the censuses are rigged to misrepresent the actual population sizes so that the political representation granted to each group is altered. The apparent social divide between people from different backgrounds is further enhanced by the divide between people of different ages. As Nigeria experienced a population boom in the late twentieth century, it currently stands as the most populous country in Africa, with the median age in the country being approximately 18. Young adults in Nigeria are frustrated with the disconnect between them and the government, since many of their leaders are "three or four times their age." Young Nigerians are also discouraged by rising unemployment and poverty. As it stands, young people in Nigeria have little to no say in how they and their country are governed. When their alienation by the government is combined with unlawful and inhumane policing practices, Nigerian youth struggle to feel welcome in their own country. Initiating movements like #EndSARS is often one of the only effective ways of making their voices heard.
Can Nigerian Youth Rebuild Trust in their Government?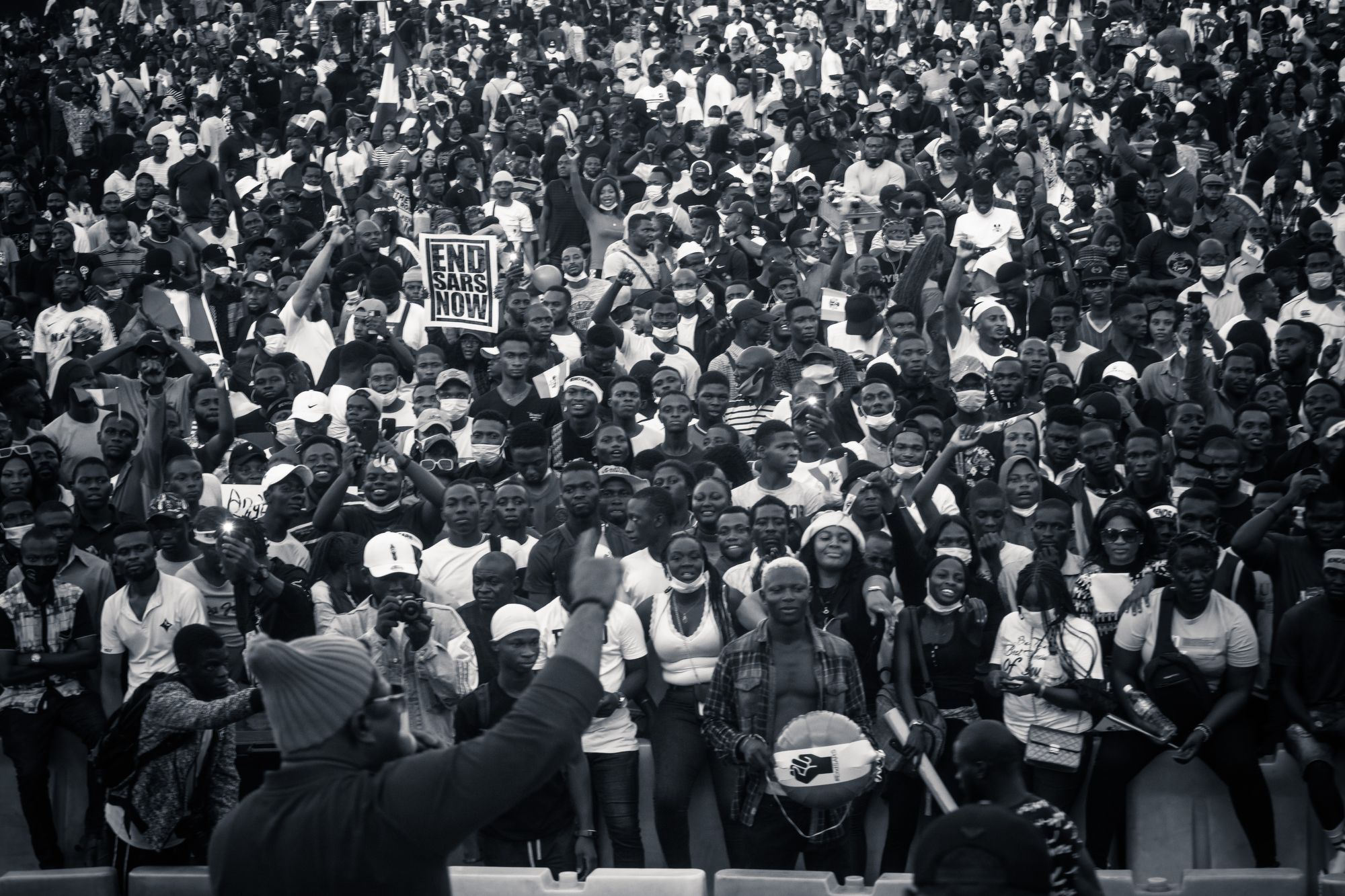 On October 11, 2020, Nigerian Police Force announced that SARS would be dissolved. Because the government had made the same promise multiple times before, many of the protesters were not convinced; therefore, protests continued in most states in Nigeria. In Lagos, counter-protests were staged where the #EndSARS supporters were attacked by armed suspects. About a week later, in Lekki, Lagos, the army opened fire on unarmed #EndSARS protesters, leaving at least a dozen protesters dead and many more wounded. These events show that years of displeasure and oppression cannot simply be erased by one day deciding to meet the demands of those who have been systematically persecuted for years. Young adults like Chibuike have lost their lives, many others have been left wounded or psychologically injured. In any case, #EndSARS seems to have come a long way in achieving their goal, but the government is still under watch by Nigerian youth, and there is pressure on Buhari and his administration to finally keep their promise. Shortly after the news of the dissolution of SARS, the Nigerian Police Force announced that SWAT would now carry out the duties of SARS, and that there would be "extensive reforms" within the police force. This led Nigerians to alter their message slightly and adopt #EndSWAT on Twitter. Whether or not SWAT will treat young adults better or will reforms be made remains to be seen, but the majority of the protesters are staying on alert. After years of persecution and lack of dialogue with the government, it will be a lengthy process for the Nigerian youth to rebuild trust in the law enforcement.
#EndSARS has been and continues to be a movement that demonstrates the stark contrast between different generations and ideologies in Nigeria. On one side, there is Nigerian youth that want to live as they desire and demand change. On the other side, there is Buhari, a powerful military figure with right-wing policies, and his administration trying to run an already divided nation. While it may be hard to predict whether the promises made by the government will be kept, #EndSARS has been a source of inspiration for young adults across the world who want humane policies and administrations that champion peace and equality.
---