After nine years in Mali, France has officially left. Operation Barkhane, the French military counter-terrorism campaign which began in 2013, withdrew from its base in Mali this August. Since then, Operation Barkhane has almost universally been interpreted as a massive disaster on the part of the French. How France managed to fail Mali so miserably and whether the already precarious situation of the region will improve is still up for debate.
Background on Operation Barkhane
A decade ago, Mali requested military aid from France when Islamic militants encroached on the country's capital, Bamako. The French soon arrived, hailed as heroes. Within hours of landing in Mali, French soldiers were already in battle and, within a few weeks, they recaptured the central northern cities of Timbuktu and Gao.  
The beginning of Operation Barkhane is largely viewed as a success. France and its allies strengthened the Malian armed forces and employed their specialized air and ground technologies. The operation expanded its footprint across the Sahel, the region in Northern Africa between the Sahara and the savanna, with two additional permanent bases in Niamey, Niger, and N'Djamena, Chad. It has become clear, however, that the allies have since failed the Sahel. The region has witnessed thousands of Malian civilian and military casualties, and more than 2.5 million people have been displaced.
Earlier this year, French President Emmanuel Macron announced France's decision to leave Mali. All 2,400 French troops in Mali, out of the total 4,300 stationed in the Sahel, would leave. The complete withdrawal finished six months later, on August 15, with the last French soldiers crossing into Niger.
Increased Violence
The Sahel has become a hotbed of Islamic extremists, including the Macina Liberation Front, which has connections with al Qaeda in the Islamic Maghreb, and the Islamic State of the Greater Sahara. Last year, there were 4,839 casualties due to such extremist violence in the Sahel, a 70 percent increase from the previous year. This jump marks the sixth consecutive year of rising rates of violence. These jihadists have taken advantage of popular resentment towards corrupt leaders, widespread poverty, and and one of the world's fastest growing populations to gain power.
On top of this, counterinsurgency is notoriously difficult to execute. Counterinsurgency soldiers must engage in traditional combat, while, arguably more importantly, becoming part of society in order to sway citizens away from insurgents. This is a formidable goal, particularly for former colonial powers, like the French, who have had significant trouble influencing Malian citizens. Further complicating the situation is the fact that counterinsurgency is associated with high rates of violence against civilians. In 2021, French air forces mistook a wedding in a Malian Bounti village for a terrorist gathering, causing the deaths of at least 19 civilians, confirmed by the UN Multidimensional Integrated Stabilization Mission in Mali. This incident is just one of many accusations that French air strikes have killed civilians.
Citizens in Niamey told researchers that the French military's actions give the appearance that "terrorists are on both sides." This view is echoed even by those in the military; a Burkinabe military officer, who is part of Operation Barkhane, commented: "We do need more help to fight the terrorists, but for years, France has shown an inability to do it. This is why the population is revolting more and more."
Although the overall violence in the region has been widely neglected in the media, the situation has garnered more international attention since the 2020 coup. During a press briefing earlier this year in Geneva, a spokesperson for the UN High Commissioner for Refugees called for "concerted international action to end armed conflict in Africa's Central Sahel region." At the UN General Assembly (UNGA) in September, António Guterres, the Secretary-General, expressed concern for the "insecurity" and "instability" in the Sahel, which represents a "global" issue.
Strained Tensions
Rising violence is not the only factor that contributed to the termination of Operation Barkhane in Mali. Diplomatic relations between Paris and Bamako began to falter following the May 2021 coup and January 2022 push back against democratic elections. Macron's announcement explicitly named the primary reason for France's withdrawal as the junta's unwillingness to solve its growing security issues. Conversely, the junta blamed France for its failure to keep its promise in their partnership. They then reported that Mali had no choice but to seek other partners, referring to their hiring Russian mercenaries from the Wagner Group.
France has become increasingly unpopular throughout the Sahel, although Malians may be especially angry about French activity in the region. Most French view Françafrique, France's sphere of economic; political; and military influence in its former colonies, as a policy of the past, while many Malians continue to live with the system's negative impacts. Opposition to France, triggered by the perceived failure of Operation Barkhane, has become a rallying cry. Over the past few years, there have been an increasing number of complaints and demonstrations against the continued "meddling" of France in its former colonies, both in urban and rural areas.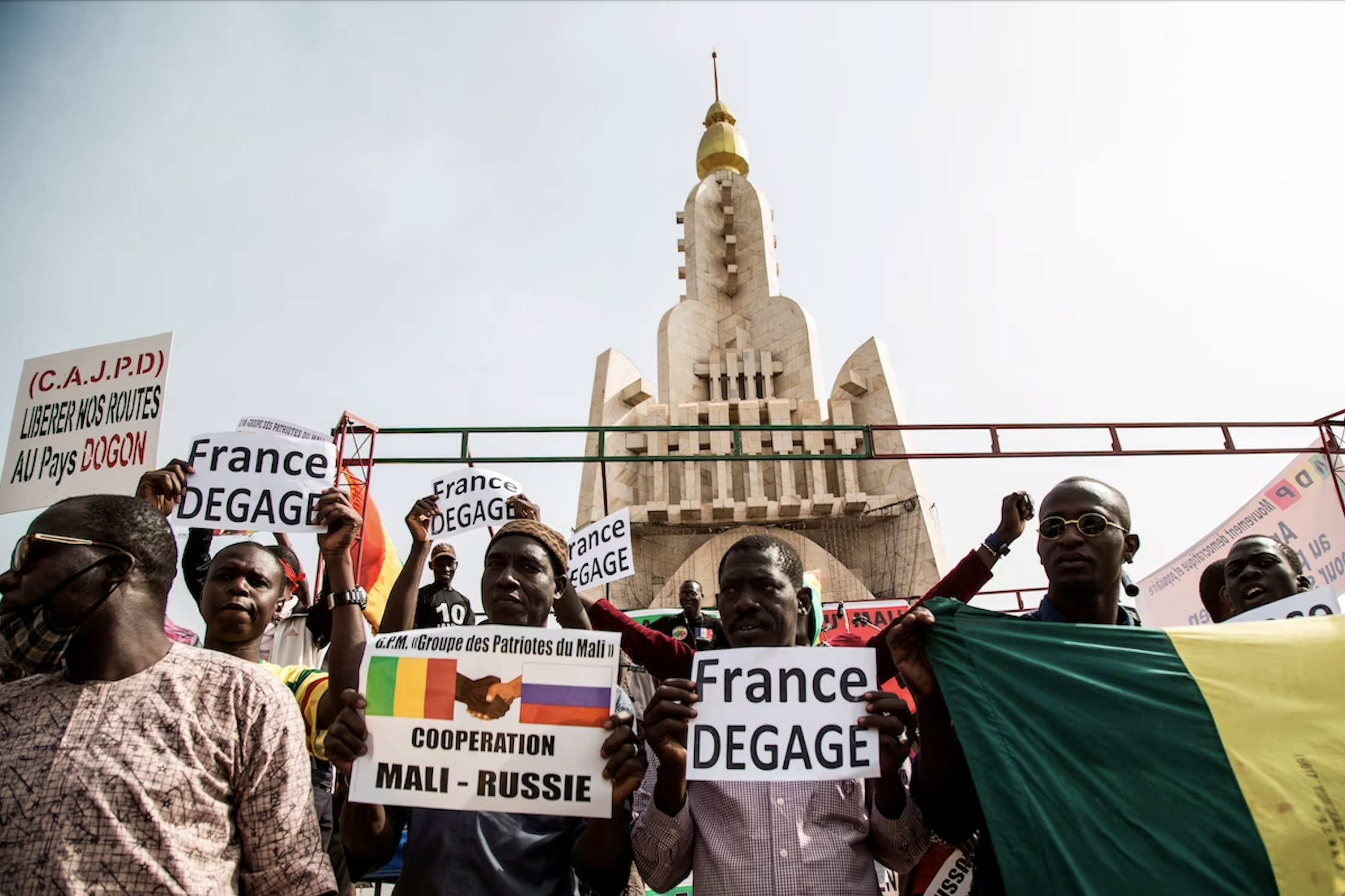 This tide of anti-French sentiment helped the Malian junta garner massive popular support during the 2020 coup. Even now, the junta continues to draw on popular grievances to maintain its legitimacy. In a recent speech at the 2022 UNGA, Mali's interim Prime Minister, Colonel Abdoulaye Maiga, lashed out at France, claiming they had "stabbed [Mali] in the back," with their "neocolonialist, condescending, paternalist, and vengeful policies."
According to some French, this point of view is not totally unfounded. General Didier Castres, a former deputy chief of staff during the beginning of Operation Barkhane, also found that France's patronizing approach frustrated the Malian Government and local populations over time, saying "we acted like a big brother who would turn to his little brother and tell him what to do and not do. We've been the know-it-all trying to apply templates that weren't suited to them."
Moreover, France's counter-terrorism efforts in West Africa remain unpopular in Paris, especially because of the monetary cost; Operation Barkhane is the longest and most costly French military operation since World War II. Even as early as June of 2021, there were serious doubts among the French population concerning Barkhane.
A Precarious Position  
Following Macron's February announcement, European diplomats at the EU-African Union Summit reaffirmed that Africa is a "key issue" for Europe. They formally recognized that even if Europe remains Africa's main partner, both in terms of trade and direct investments, the continent has its choice of partners.
The level of future security involvement of European countries, especially France, in the Sahel is unknown. This summer, following his April reelection, Macron said that he wants to "rethink of all our (military) postures on the African continent" and build on the "Europe-Africa axis which is, today, at the heart of all our multilateral policies." Clearly, France will not be leaving the Sahel anytime soon. Practically, however, it is difficult to determine what Macron's "rethinking" entails.
On both sides of the Mediterranean, there is a somewhat loud contingency that advocates for stronger barriers between the continents, though the reason for which differs. Andrew Lebovich, a fellow at the European Council for Foreign Relations, wrote that the French withdrawal from Mali reflects its outstanding need for "states in the region [to] take on greater security and governance responsibilities for themselves," especially in light of the August 2020 and May 2021 coups. Boubacar Ba, a security analyst in Bamako, seemed to disagree, arguing that "we must find our way out of the cliche that the West has the solution." Imam Mahmoud Dicko also expressed concern about French control, saying, "I do not see why France can refuse or accept this situation [dialogue with the jihadists]. It is not France that we are asking to discuss with, it is in Mali, which is a sovereign country!" and "It is not up to France to impose its solutions."
Yet, the future of both continents is not mutually exclusive. Clearly, counterterrorism in the style of Operation Barkhane is not effective. There is a long and dark history between the two, and now, with each having vested economic and security interests in the other. Combatting terrorism in the Sahel cannot be the sole responsibility of West African nations, when the situation has far greater ramifications.
Cover photo by France 3 Grand Est, CC-BY-3.0, accessed via Wikimedia Commons.
---